Sunday, February 16th, 2014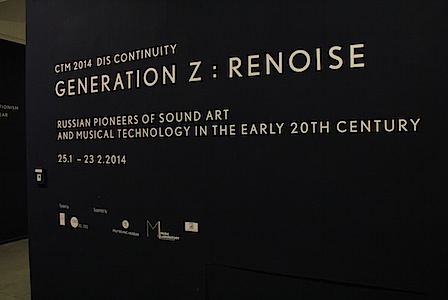 For Berliners and those who can afford to go to Berlin for a quick trip I would like to mention an absolute must see exhibition, namely the exhibition Generation Z: Renoise about the russian musical avantgarde in the 20s and later which is curated by L. Pchelkina, A. Smirnov, P. Aidu, K. Dudakov-Kashuro and E. Vorobyeva. The exhibition is unfortunately not as highly promoted as it should – given how fabulous it is! I hope that this post makes some more people visit it. It is definitely worth it! The exhibition is in the Künstlerhaus Bethanien, Kunstraum (unfortunately not so easy to find), it runs until Feb.23, 2014. It is free of entrance and open from 12:00-19:00 o clock.
The exhibition has the themes: Projectionism and Radio-ear, Revasavr, GIMN Institute, Theremin, Graphical Sound, Industrial Noise Machines, Amateur Noise Instruments and Destruction of Utopia. Below is a small excerpt from the respective themes. A lot of details can also be found in Andrei Smirnov's book "Sound in Z".