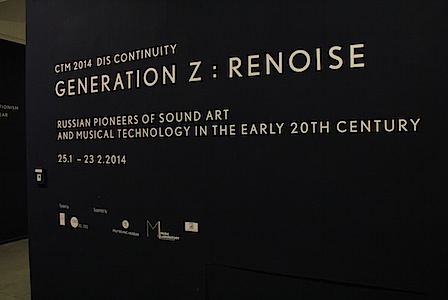 For Berliners and those who can afford to go to Berlin for a quick trip I would like to mention an absolute must see exhibition, namely the exhibition Generation Z: Renoise about the russian musical avantgarde in the 20s and later which is curated by L. Pchelkina, A. Smirnov, P. Aidu, K. Dudakov-Kashuro and E. Vorobyeva. The exhibition is unfortunately not as highly promoted as it should – given how fabulous it is! I hope that this post makes some more people visit it. It is definitely worth it! The exhibition is in the Künstlerhaus Bethanien, Kunstraum (unfortunately not so easy to find), it runs until Feb.23, 2014. It is free of entrance and open from 12:00-19:00 o clock.
The exhibition has the themes: Projectionism and Radio-ear, Revasavr, GIMN Institute, Theremin, Graphical Sound, Industrial Noise Machines, Amateur Noise Instruments and Destruction of Utopia. Below is a small excerpt from the respective themes. A lot of details can also be found in Andrei Smirnov's book "Sound in Z".
Projectionism and Radio-ear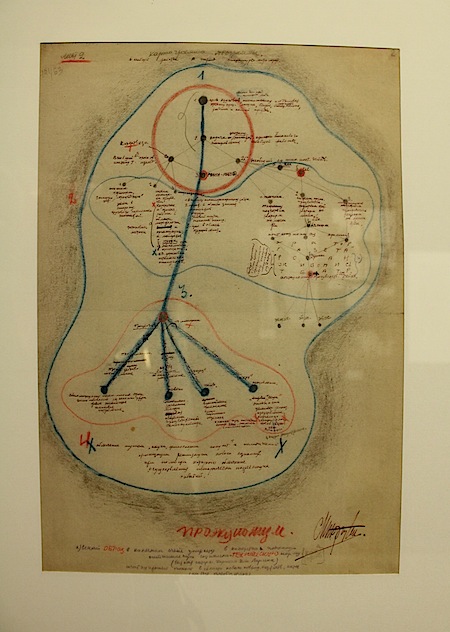 Solomon Nikritin's "Cartogram of the Theory of Projectionism" 1924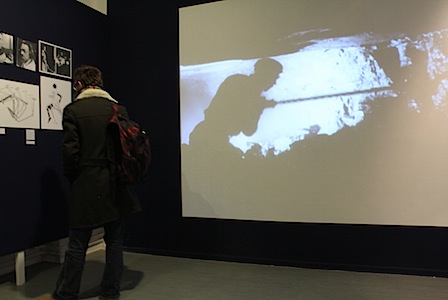 The wall displays documentations from the Central Institute of Labour (about which I may eventually write more later) . The film excerpt was I think from a film by Dziga Vertov.
GIMN Institute
The exhibition showed an incredible amount of original instruments and musical equipment, where one room was entirely dedicated to the Theremin. The room of the GIMN Institute (the former State Institute of musical science) displayed also a lot of objects.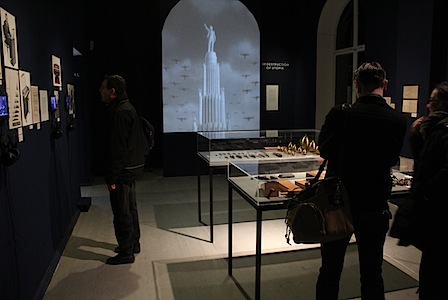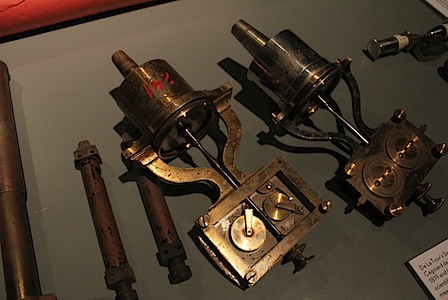 De La Tour sirens ca. 1920s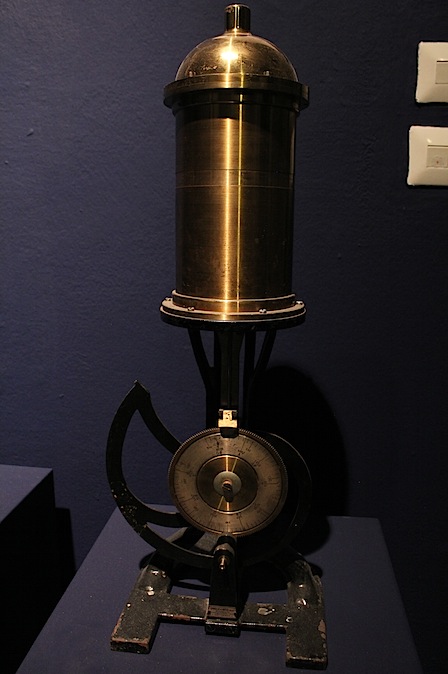 Pneumatical tuning fork ca. 1910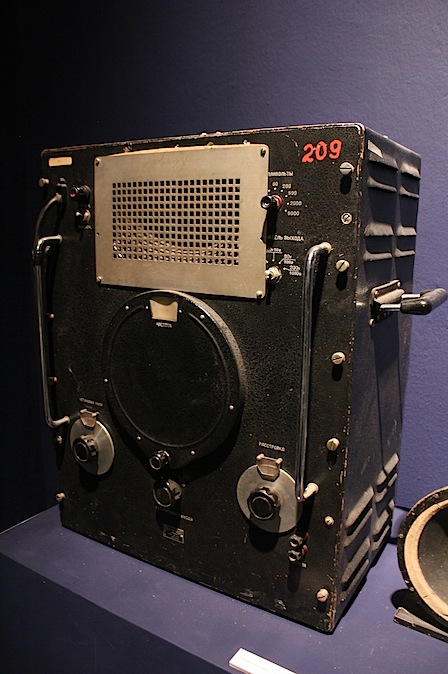 A sine wave oscillator ca. 1950s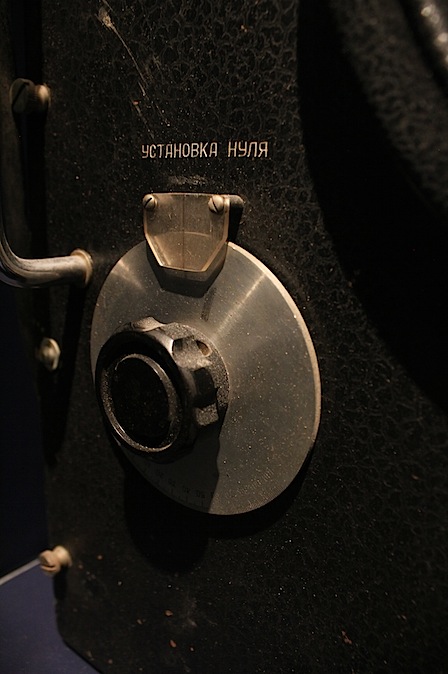 Theremin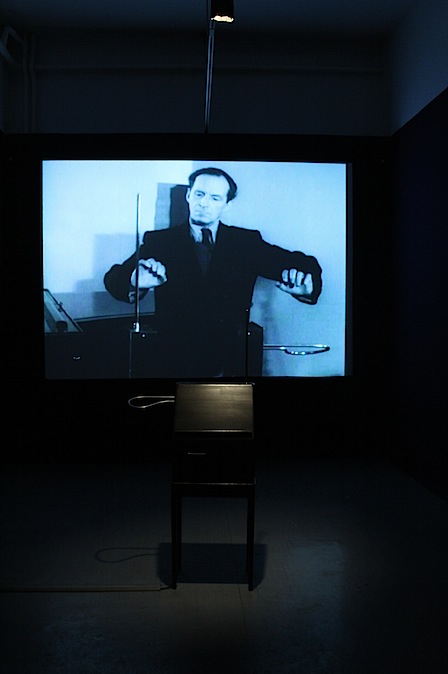 A real working Theremin in front of a Theremin performance by Theremin!
Even D. Shostakovich used a Theremin e.g. in the film music for the film "Odna" (excerpt) and even for the song the Internationale.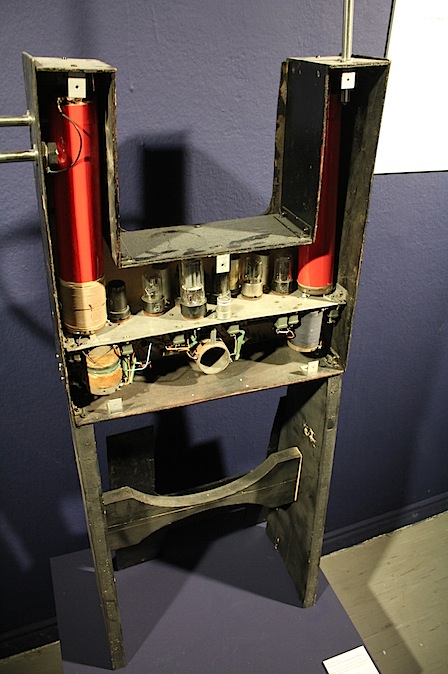 A Theremin from inside from the 1950's
Graphical sound
An example from graphical sound (or visual music). Graphical sound was e.g. also used by Oskar Fischinger or Evelyn Lambart and Norman McLaren. Here Norman McLaren explains how graphical sound works (see also this summary).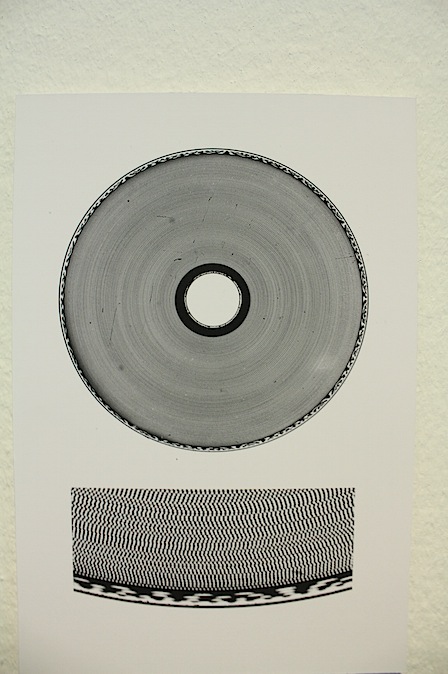 Optical disc of the ANS synthesizer by E. Murzin, Theremin center archive. The ANS synthesizer was for example used in the film Solaris by composer E. Artemyev, and e.g. by composers Sofia Gubaidulina (Vivente-non vivente) and Alfred Schnittke (stream).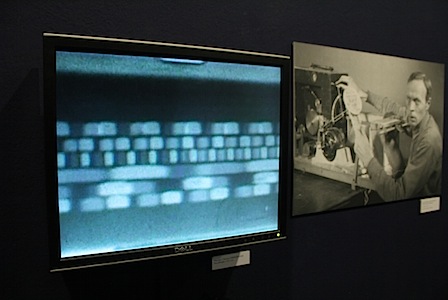 E. Sholpo with the variophone.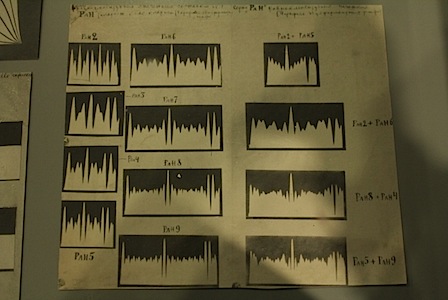 Collection of socalled "syntones", which as far as I understood are the inverse fourier transforms of a distinct pregiven spectrum, which is created by means of some graphical sound technics.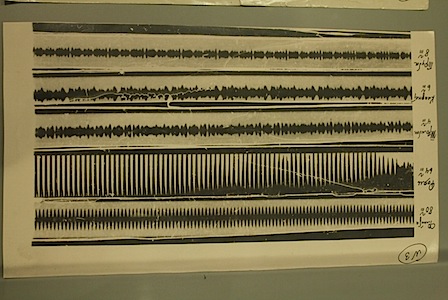 sound samples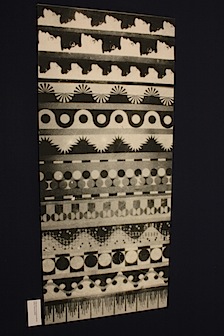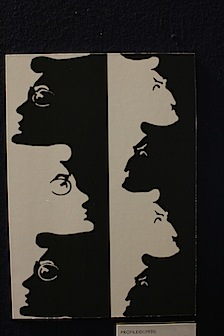 Ornamental sound tracks drawn by Boris Yankovsky. On right: Boris Yankovsky and Arseny Avraamov.
Industrial Noise machines
A whole room was dedicated to "noise machines", i.e. machines with which a lot of rather industrial sounds or even war sounds could be created. These machines or instruments where used e.g. in theater performances. Someone had uploaded a video to youtube from this room, it is strenuous to watch, but it displays the noise rather vividly.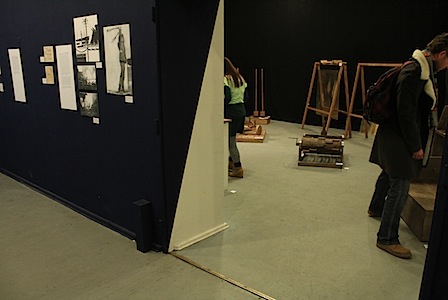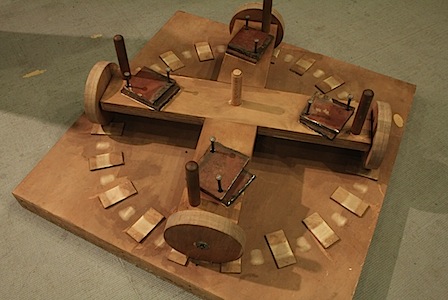 Tank noise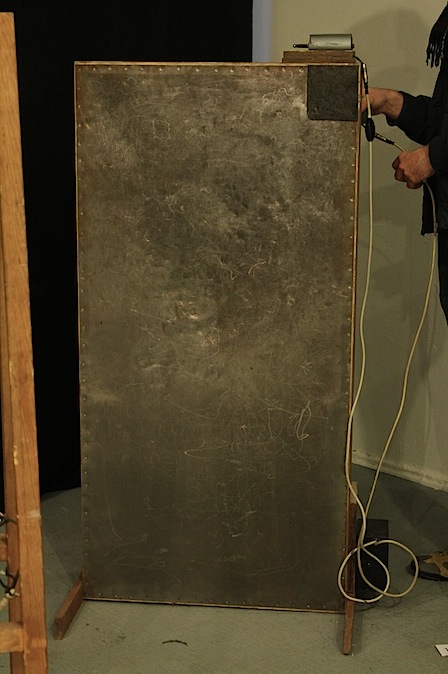 Noise of a bomber and a fighter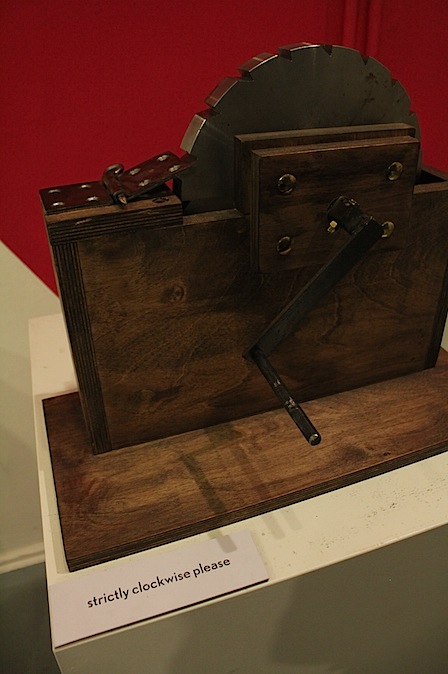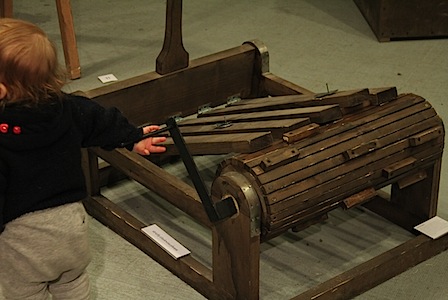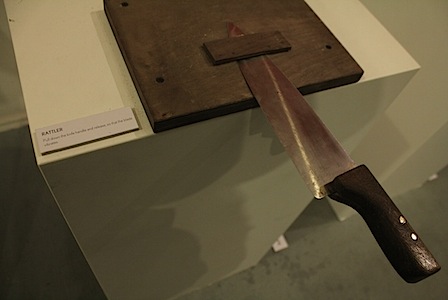 Amateur Noise Instruments
From the exhibition catalogue:
"The idea of noise music and noise orchestras in particular seems to be specifically of an avant garde, and precisely of futurists origin; however it is as much radically modernistic as it is deeply rooted in Russian medieval traditions of "skomorokhs", east slavic harlequin actors who were persecuted in the 17th century."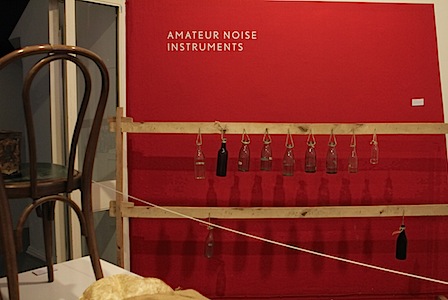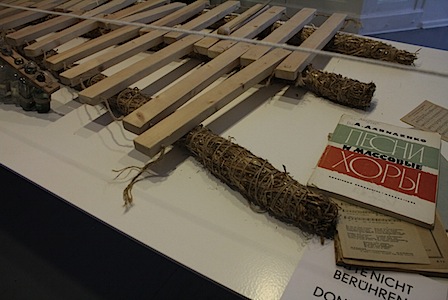 The amateur noise instruments were also intended to be used in a real "noise orchestra" performance which was intended to be rehearsed in a workshop given by artists Konstantin Dudakov-Kashuro, Peter Aidu, and Evgenia Vorobyeva. Unfortunately the workshop didn't take place all the time because often only too few participants showed up despite the fact that it was a lot of fun to make music with the organizers of this workshop and to make music with these instruments. Unfortunately finally the performance had to be cancelled because of the low attendance.
Towards the later stages of Stalin's reign the avant-garde art was more or less destructed and even their documentations often erased. Many major avant-garde protagonists were imprisoned, tortured and killed. This was part of the section
Destruction of Utopia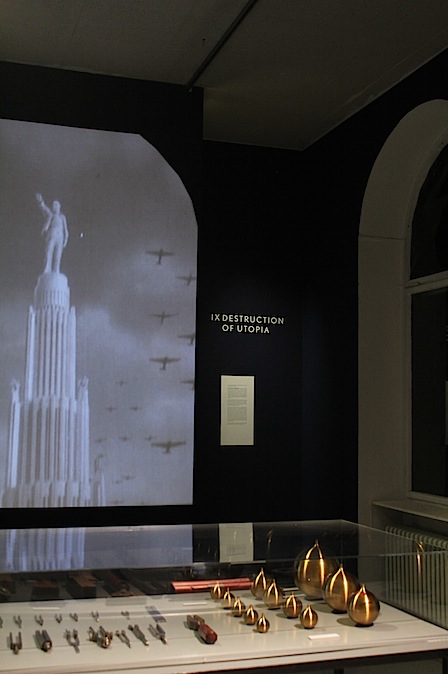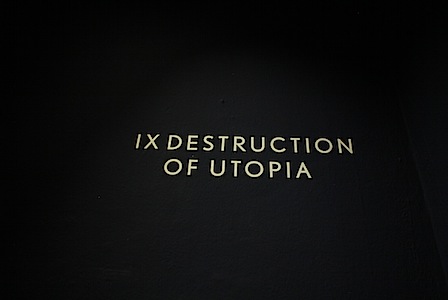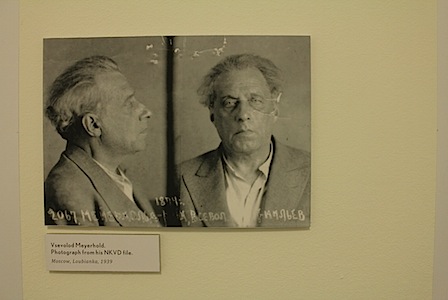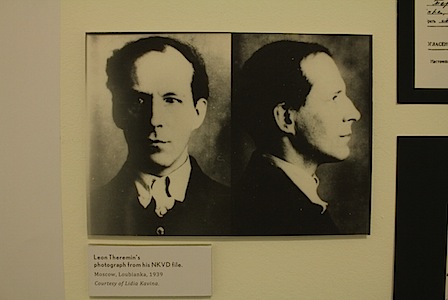 V. Meyerholds and L. Theremins photographs from NKVD Files.