Monday, August 28th, 2006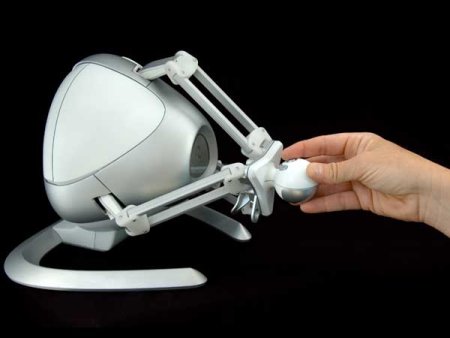 Here comes a little post in between – I haven't yet found the time to upload the rest of the games convention images. However it is now – after the GC is over – clear that there are anyways no big news from the GC: Despite a record of 183 000 visitors the battle over new game consoles is postponed to the Tokyo game show. Probably even without feeling ridiculous Sony showed at the GC just a dummy PS3 under glas and trailers in wmv format. But also Nintendo didn't show the wii console to the public (but only to showmasters) and found it funny to make riddles about the wii release date, which seems to be Oct. 2. Somehow I missed the joke probably.
Most interesting for us were the game controllers. Both consoles seem to have sensors for measuring rotation and acceleration. See e.g. STMicroelectronics and Analog Devices.(as an intro: wikipedia on MEMS). However the wii seem to need also infrared contact.
Whatsoever another 3D controller which might be even more interesting – especially if the specifications of the game controllers are not openly usable is the Novint Falcon (see image above from wikipedia) – announced on the E3 to be available for under 100$.
Meanwhile the math TU group/jReality group lost patience and bought this nice little gadget.