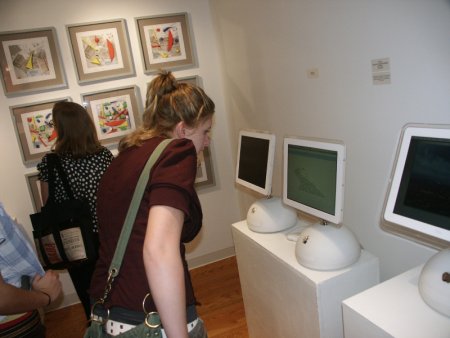 Also if my recent obsession about nested polygons, nested documenting and nested exhibitions gets may be a bit boring and nerving (this is why iterations are nowadays done by a computer) – this post here is a short report about a foto report about an exhibition about which I was reporting in this randform exposition which was about online exhibitions in real exhibition spaces.
In the above mentioned computerfinearts exposition I was speculating about what Doron Golan would think about his online exhibition going inline in an exhibition space. And in fact – I should may be better use the time and write him an email and ask him directly instead of speculating. However sometimes it may be senseful to gain one`s own experiences (instead of trying to understand explanations). at least for a start.
But without feedback this is difficult and so I was happy about an unexpected email from Harrisonburg/Virginia by Allison from the Institute for Visual Studies at James Madison who sent out yesterday a link to images from the Mathematical Photography exhibition in Harrisonburg.
Indeed it is not so instructive if one looks at Harrisonburg via google earth or maps in order to understand what was happening at the exhibition (like I did in my computerfineartspost).
The above foto is heartwarming. A real person looking at surrealey! Such feedback helps to keep going. Many thanks to Allison and crew! All the best to Virginia. Keep your curiosity.
I dont know if the young woman on the foto already saw the Loreley in real. I think knowing this (actually now quite crowdy) place may lead to a different perception of the piece.
Deutschland – ein Wintermärchen (see also here or here) is by the way also a recommendable poem collection from Heine (also if my german teacher in school found it boring due to the complicated metaphorical annotations to already forgotten german politics in the 19th century).
*(by the way for german speakers: it may be interesting to compare these metaphorical annotations with a more recent variation coming from marketing at e.g. gergey.com/woerterbuch.php). (where – admittingly – it is of course a bad joke to go on and compare the oppression mechanisms of Heine—Friedrich Wilhelm IV with e.g. Ingeborg Bachmann—shopping&Co or even more abstract: science—coffee) *
addition 24.01.2013 The science link is broken, please see below comments. Furthermore a recent project to investigate the relations between academia and commerce in Germany can be found at Hochschulwatch.de (in german).