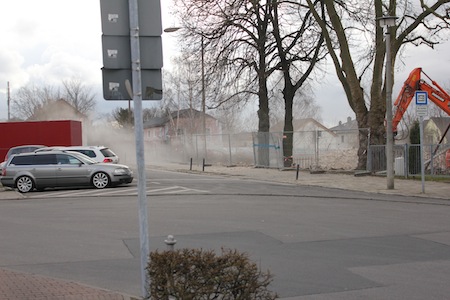 Ashes to ashes, dust to dust – remnants of the pub, as they are wafting over the railway tracks.
I am sorry to keep on talking about local politics. The pub from the last post has now been fully demolished. The little shops, which are adjacent to it are currently also under threat. A threat though of a slightly different sort.


The local district of Marzahn-Hellersdorf currently plans to invigorate a master plan according to which the settlement development of local retail is steered. The steering is however not e.g. via incentives (like to offer cheap retail space) but via strict regulations.
According to this plan any new retail, which offers not just local supply (i.e. food, etc.) is only allowed to settle down in predefined centres.
In our local surroundings there are quite a bit of little shops, which offer socalled "centre-relevant", i.e. non-local-supply retail, like bikes, glasses, jewelery. The currently exisiting shops have probably a right of continuance, but any new (re-)settlement of this kind will be forbidden – if this master plan is allocated.
Tim and me think that in the long-run this means the end of the little shops in this area. We thus talked to the head of the department for city development here in Marzahn, Mr. Gräff (see also previous post) and wanted to explain the problems we see here. Unfortunately Tims remarks and questions were in the turn of the conversation more or less rebutted by asking him wether he wants to spoil for a fight. (We got to hear more, but those who know Tim and his natural gentleness will already find this rebuttal astonishing.) So our explanations and questions seemed to have been unsuccessful here. However last month the master plan was also opened online for public comments and Tim and me wrote a comment to it, which you might read here (in german).
Last but not least -similar to the death of the pub- the dying of little shops means in particular that public communication locations are diminished. Reminding of this fact was my main motivation for writing this post. Bringing the role of (academic) city planning to attention in this context was another motivation.