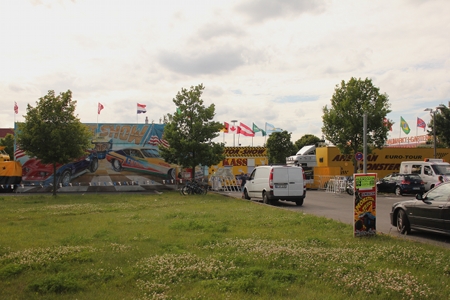 Reader Sibille had asked in a comment to a post about "some music in Marzahn":
Isn't that Parkbühne located witin a residential area? Aren't the inhabitants of that area disturbed by the noise which is caused by such a band?
My answer after the click


The Parkbühne is somewhat located in a residential area. That is it is located in a park which is bordered on two sides by big streets, but on the other two sides by a residential area.
But yes – you have a point it can get loud and frankly I found the concert by this KISS cover band indeed too loud, but firstly I seem to be rather sensitive to noise and secondly that noisiness holds nowadays for basically all pop concerts which I attend. The loudness of that band was actually less then for the bands at e.g. Berlin Festival. I have the feeling that todays pop concerts are much louder than in my youth and if I go to a concert here in Berlin I always have to use ear plugs of the strongest kind.
And yes -as I read in the local news- there had been complaints about the music at Parkbühne by some residents. But since the music is usually only for 2-4 hours, stops at 22 o'clock and there are alltogether about 10-12 concerts within half a year, I find this is a somewhat fair set-up in exchange for some culture. But of course especially metal music can be very loud and I haven't really checked how loud it sounds for the immediate residents. So eventually some additional sound blocking wall towards the residential sides, some turning down of the sound and less very loud concerts in exchange for more silent concerts would eventually be fairer.
It might also be the case that the overall noise level in that area adds to the perception. There is a nearby square which is usually mostly used as a parking lot. It is in front of some DIY, electronics and furniture superstores. In the last years they (mostly some of the superstores) started to have some promotion and other events. The promotion events may last a whole day (instead of 2-4 hours), they are often on special sundays where shops are allowed to open (shops are usually not allowed to open on sundays in Germany). The promotion is usually done by a presenter who plays all sorts of loud advertisement games and some (Schlagerpop-) music in between. A measurement with an (eventually not too reliable) Iphone app revealed that the sound pressure of the presenters words (only the words were measured – the music appeared even louder) was at about 80 DB at 10 ms distance (remember there are hearing damages possible at 85 DB).
Recently a stunt show called "American monster Euro tour" was invited – I guess that produced some additional income for whoever is in charge for the square. The event went from around 10 a.m. to about 7 p.m. on a sunday. Again there was a very loud presenter but even louder was – the screeching of the brakes and the motor roars which were amplified (below some images from the event). So in short – a few short term single loud events probably do not matter too much it is probably the sum of noise which has to be taken into account.
related posts:
->piezofenestration
->the rotten dianthus