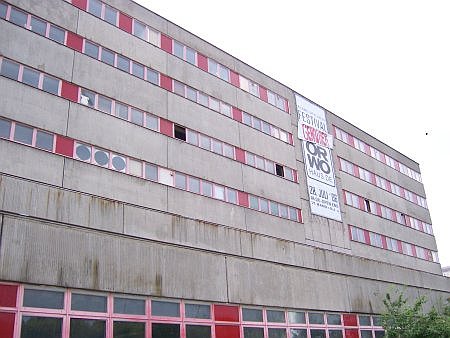 Yesterday the ORWOhaus celebrated its first "Klang der Ideen"-music festival.
In 1998 free music groups from all over Berlin started to gather in this cheap old GDR-Plattenbau from the eighties. This Plattenbau is located in the Eastberlin quarter Marzahn, which used to be a GDR showcase (see also our work Mahrzipanien). Less than a half-an-hour tramway (streetcar) ride from Berlins center Marzahn is now a quarter with a high density of empty industrial and residential buildings.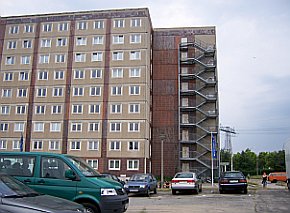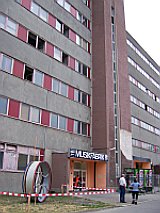 In 2004 the public owner of the haus terminated the lease with the musicians due to failings in fire security. After quite a bit of rallies and fund raising campaigns the community could finally buy the house and raise money for renovation. The whole community was subsequently awarded with a prize…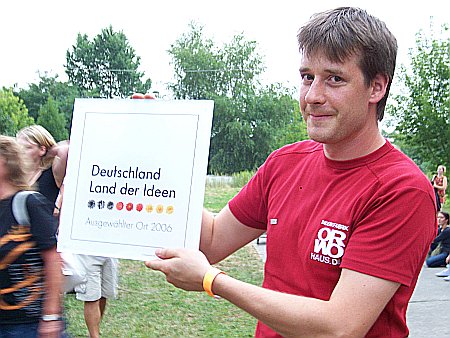 Marketing man René Schäfer with the prize
…of the Land-der-Ideen (country of ideas) initiative. This initiative is an official marketing campaign for Germany, intended for displaying the inventiveness of people in Germany (however – I think- this stupid "country-of-ideas"-title is rather displaying the opposite).
The ORWOhaus can host about 200 music bands. Other provisions of services like booking agencies etc. are planned.
Hence the festival yesterday was also a "thank-you"-party. At 35 degrees celsius, with three stages (two of them open air), a beergarden it was a popular place to be and even the radio was there: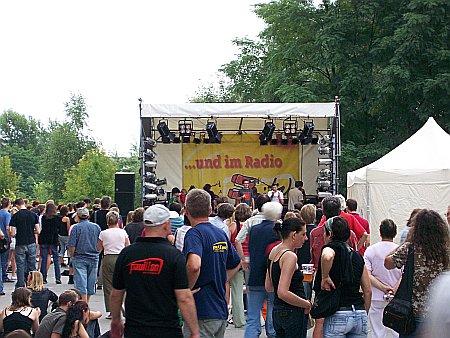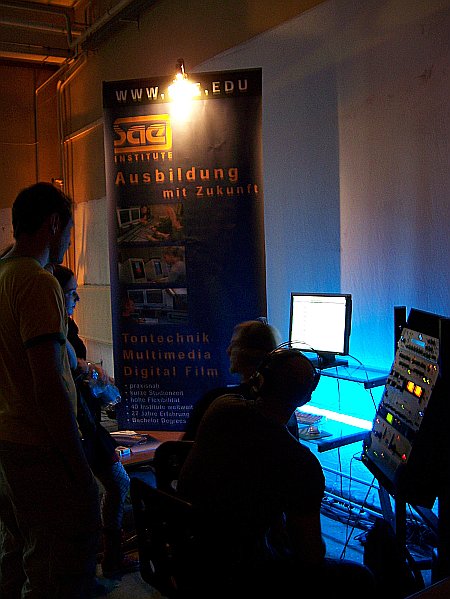 SAE
promoting its services
The graphical part of the festival was rather modest, there was not much VJing (at least in the earlier part of the festival, which I attended), but at least there were some fractals on the wall: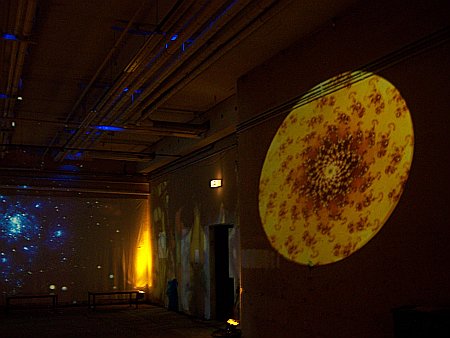 Unfortunately my camera ran out of battery already in the sound check stage: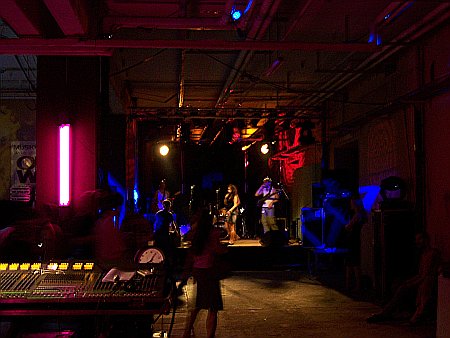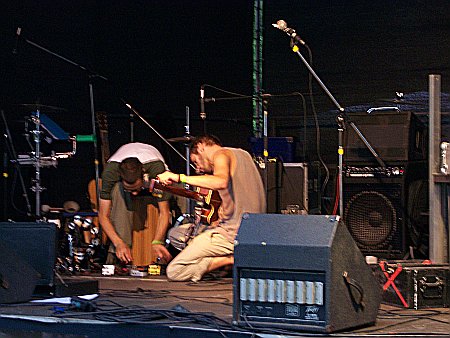 papptiger setting up their complicated drum device
…which was not so bad either, as so I couldnt take more fotographs but enjoy the show :).
Best band of what I saw: papptiger a great absurd mixture of country-chanson-rock-hiphopreggae, which they call minirock.