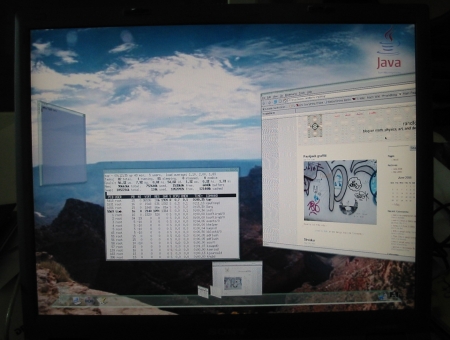 The internet was also nice before…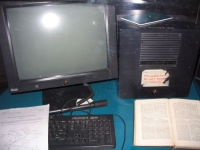 ..there was www (image on the left shows the Next Cube on which Tim Berners-Lee programmed his first browser). At theses times (late eighties) there was email, there was chat via TALK, there was no need for MSN, since one could anyway check who is logged on on which computer via FINGER@. So the essentials were there, but in contrast to now there were no criminal spammers, there were almost no viruses. Live was in Unix, Art was in ASCII and passwords were exchanged among good friends.
A common game among friends was to modify each others desktop. I.e. one would deploy an annoying background image, or a popping up ASCII animation which would make the friend shriek the other morning, when logging in.
I was reminded to this modifying-desktop-game when trying out 3D desktops with Tim. The top image shows one of Tims laptops with Looking glass on it (see also the video on youtube). Looking glass is still in beta state and took a lot of computing power off Tims laptop, but it was nice to see the randform page floating over Grand Canyon.
Another desktop we tried was xgl (see also video on youtube). I liked the wobbling windows a lot, but I am not sure wether they won't get on my nerves in the end. The 3D feeling was better with looking glass.
Other interesting projects we haven't looked into too much yet:
–sphereXP (video on youtube) (we wait for SPHERIX to be announced for summer)(?!)
–3D Desktop for linux which is a simple desktop switcher using OpenGL for a 3d effect
there are some university/research institutions project in various stages of completion (no complete list!):
-work by the Dynamics Graphics Project who had already in 1974 a highly-interactive display informally called the Graphic Wonder and who have now a dazzling video on youtube with a pen and document centered bumptop.
-there is the old project of the NCSA, something at INRIA , and Fraunhofer (the ones right next to the TU math building) etc., but may be I write about this another time.
The best thing is anyways to DESIGN YOUR OWN 3D DESKTOP with jReality—like e.g. by starting to put your navigation onto a helicoid….unearthly übernerdy.