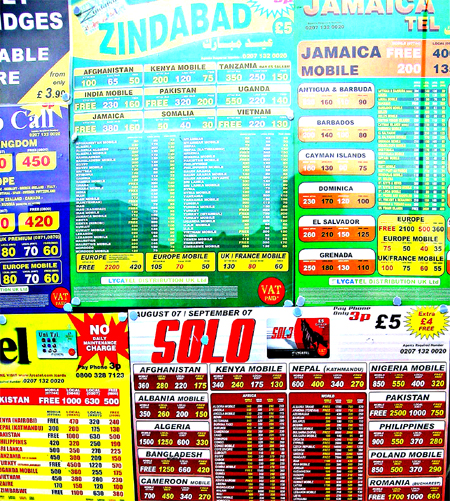 This overcrowded shop window of a stationary caught my attention.
The posters in the window are providing an expressive texture reflecting people and peoples lives around this place. It documents on the multiethnicity of the location, on old bonds to home countries, on mobile (phone) networks, on the economic value of communication etc.
The social, political, ethical, psychological etc. implications of mobile phone technology are not well understood. (the NMI conference e.g. covered quite a bit of this issue). It is obvious that like with any new technology there will probably be a good and a bad side to it, depending on the use. Or simply put – if your car broke down or if you are lost then a mobile phone comes in handy, however if the result of mobile phone technology is that it's the only way you stay in contact with your dear ones – or worse – if you rather stay in touch with their ring back tones and answering machines then this is bad. The phoney all-time availability of people may lead to more anonymity, superficiality and finally isolation. Moreover the combination of mobile phones with geotracking raises again the issue of surveillance, especially if – for some people – it appears to be already suspicious to run around without a cell phone. Concluding: Mobile phone applications as e.g. dodge ball (or the german aki aki) have to be investigated very, very carefully.
Coming back to ring tones: I liked the dialtones – a telesymphony project of Golan Levin and collaborators, which is a symphony for cell phones. In this context I could imagine it to be interesting to use the (standard) ring back tones/busy signals of various countries for a symphony instead of the ring tones themselves. It would mean to carry the inside tones of a phone to the outside by converting the ring back tones into ring tones.