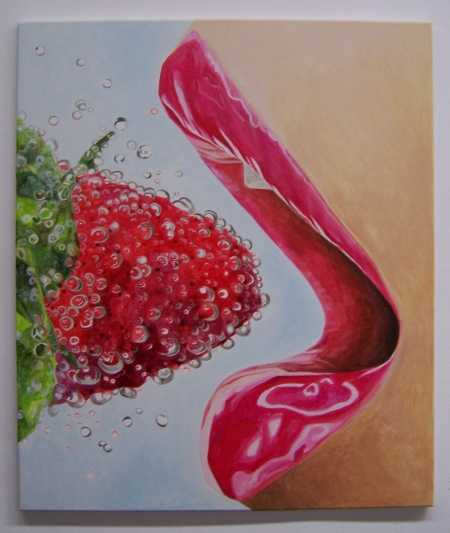 Last weekend was the art opening for Martina Goldbecks art exhibition with the title: "desire" (Pronunciation: di-'zI(-&)r).
Since many years Martina is interested in iconic representations of women in the public press. A big part of her work displays women as they are shown in fashion, business, fotographical or other magazines. Besides the particular choice of her subjets her emphasis lies in particular on the investigation of how these images are displayed. With her paintings she is trying to fathom the boundary between painted and graphical. While she is re-defining her visual scopes (like some of her female images are painted on transparent acrylic glass where e.g. the white part of the cornea is left transparent) she discusses at the same time concepts such as hyperrealism (see e.g. the topmost image from 2007).
With the exhibition Martina is giving a rather theoretical investigation into the matter of desire, including the buddistic sense. She sees it in particular as an important component of societal development.
Martina Goldbeck, born 1965 in Dortmund studied from 1989 to 1996 art at the UdK Berlin with degree "Meisterschuelerin".
times,location:
13.06.-23.06.2007 Finissage: 24.6. 17 uhr Sommerfest by Scotty, Grillen und Chillen
mo-fr 15-19 uhr
sa 12-16 uhr
Scotty Enterprises Produzentengalerie
Oranienstr. 46
10969 Berlin UBhf Moritzplatz
contact via the gallery "scotty enterprises" (URL)
The gallery location – the Oranienstrasse – was originally one of West Berlins strongholds of the 80's squatting movement and is now a popular street packed with restaurants mainly of the oriental type. The art opening had a slightly surrealistic touch to it, since a bit down the street everything was jammed with police cars and seating blockades due to the demonstration about the vacation of Berlins last squatted house called Koepi. However some people ignorantly kept sitting and chatting in the restaurant right next to the blockade. (see last image)