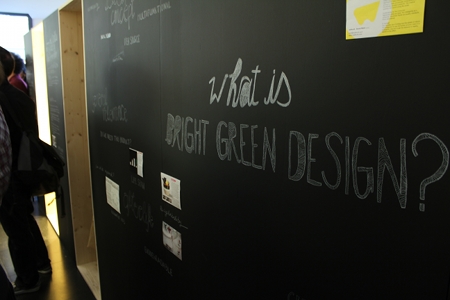 BerliNordik is a rather new forum for sustainable design, it is
"an international platform that brings together young talented designers from Berlin with their colleagues from the Nordic countries on the subject of sustainable design. "
The berliNordik blog informs amongst others about activities of BerliNordik. Recently BerliNordik coorganized an exhibition called "Bright green design" where I attended the opening. For the exhibition few product design objects were chosen. I actually had also sent in a proposal but unfortunately –again– it wasn't chosen (maybe I write later about that project in product design). Below some images from the opening.
There are images from three projects in the images. One project is featuring a partially wooden bike called "Holzweg". Here I was asking myself how good the different material components can be dissassembled. Another project is the Yellowone Needle Cap – a protective cap that turns an empty soft drink can into a safe depository for used needles, by Hân Pham. The third project is "Spot on the BUOY" by Adrian Paulsen. In this envisaged project a buoy is supplied with a paper towel for oil spills and e.g. lights so that the buoy acts as a kind of sensor for oil spills. Clearly the buoy would only be appropriate for rather "light" spills it would certainly not be addaped for the recent oil spills in the gulf of Mexico. Any paper would be totally overstrained with this spill.
(Images of the other projects from create berlin )
In the below images you can see also the discussion of jury members and organizers about "what is green design". One key issue here was the quandary of eco-designers, which is that to a great extend the task of a designer is to communicate a product and thus in part to encourage more consumption, which is against sustainability. It is also in part the task of an eco-designer to greenwash a product. Last but not least sustainability is often in conflict with economic interests, i.e. due elaborate production methods and materials and e.g. longer durability often only small profits can be made which is a problem in our economic system. Moreover next to the demand of incorproating new green technologies, questions about certification of eco-efficiency, compliance to new standards etc. are making the design process difficult.
->Video of the opening
Interview by Lilli Green with visitors of the exhibition about "what is green design" (-> video)