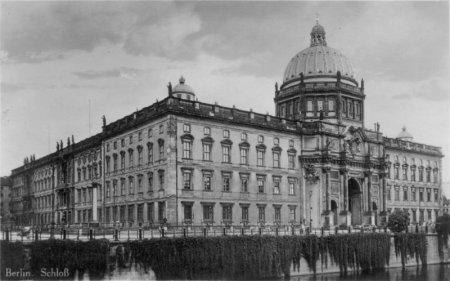 The big local news here in Berlin are the mutual consent of the city of Berlin and the federal government of Germany on the financing of the Humboldt Forum – a collection of buildings in the heart of Berlin intended for cultural and scientific interchange.
On the place of the Humboldt forum there used to be the Berliner Stadtschloss. It was the principal residence of the Kings of Prussia from 1701 and of the German Emperors from 1871 until 1918 following the fall of the German monarchy in 1918 when it became a museum. It was severely damaged by Allied bombing in World War II and was demolished by the German Democratic Republic authorities in 1950. On the place of the Stadtschloss the Palast der Republik was built. It served primarily as the seat of the East German parliament. In 1990 the building was found to be contaminated with asbestos and was closed. By 2003, all the asbestos had been removed along with internal and external fittings and was ready for demolition. Demolition started on 6 February 2006 and is scheduled to last about 15 months. In between 2003 and 2006 the palace was used for concerts and exhibitions.
The plans for the use of the Humboldt forum are not finalized yet. The current plans are that the collections for non-European culture of the Stfitung preussischer Kulturbesitz will find their place there. On the other hand the city of Berlin wanted to allocate space for the Humboldt University (in particular for a museum for the history of science) and the Berlin state library, but due to the limited financial means of Berlin (Berlin pays 32 million Euros the federal state 480 million) this future is not clear yet.
The architectural future is not clear either. There exists a private initiative, which wants to reconstruct the old facade of the Berliner Stadtschloss for which they want to donate 80 million Euro. Although I have nothing in principle against architectural pastiches/hodge-podges, I think an almost complete reconstruction of the facade gives a strange image about the democratic development of Germany. Plus: spending 80 million Euro for a facade in view of a massive public library die off in the last years here in Berlin is not really justifyable.