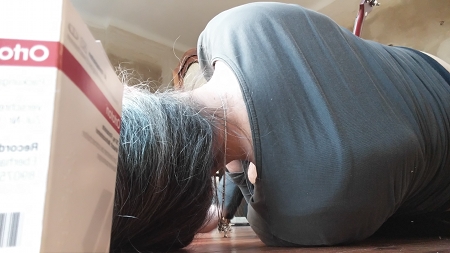 "End-Hauptbereichsverspannungsmedikamente für Nacknmuskuleere Speerre" collaborative artwork by artists group "Entente Sublimale"
More or less recently I had seen a video in which a famous politician was talking in a way which gave me the impression that this person was on drugs. I may have been wrong, but still. It should be said that in the video the person had to comment on a very tragic event and that was sofar the only time where I saw this politician in this state.
Then there was also Jeroen Dijsselbloems recent controversial remarks about economic failures due to alcohol and women and the following discussions, where it was e.g. remarked that after taking interest payments away, the economics of the Netherlands seems to look actually worse than that of Southern Europe. All this made me look a bit at examples of drugs and in particular opiods in connection with economics and politics.


In the Washington Post article "Americans use far more opioids than anyone else in the world" of march 2015 by professor Keith Humphreys a graphical overview over some countries' opiod uses is given. The data is from the INCB report 2016 (interestingly the Washington Post now keeps its own copy). As far as I understood the INCB (International Narcotics Control Board) covers the legal narcotic drugs. Illicit drugs are referenced in the UNDOC reports.
Anyways as you can see in this graphics (or in the table in the report on page 226) Germany ranks third in opiod use, which is -if you know a bit from Germany's history – not without brisance. I will come back to this later.
It is useful to recap a bit about the different types of drugs.
According to this graphics (or the INCB report) the top opiod pain killers used in the US were Hydrocodone, Oxycodone and Fentanyl. All have a high danger of addiction.
In the US those pain killers, handed out in prescriptions led to something which is now called an epidemic – according to business insider:
In 1991, the National Institute on Drug Abuse reported that doctors wrote 76 million prescriptions. By 2011, that number had hit 219 million.
The explosion in prescriptions has subsequently led to an explosion in overdoses and abuse, leading the federal government to dub opioid abuse an epidemic.
The New York times had made a visualization of deaths from overdoses where it can be seen how especially rural areas are affected by the epidemic. How this affects concrete families is described in the article:
"2 of a Farmer's 3 Children Overdosed. What of the Third — and the Land?"
And apparently too fastly cutting down on pain killers apparently made things worse and let amongst others to heroin addiction.
I haven't heard yet that opiod use was called an epidemic in Germany, although according to the report and the table XIV.1.a. on page 226 Germany uses 30796 vs. 47580 (US) daily doses per million inhabitants per day. That is about two third of the US consumption. The biggest amounts are here though not Hydrocodone like in the US but Fentanyl – the drug which apparently killed the musician Prince.
Here a diagram made from numbers in the report (p. 249-250) about the rise of global use of opiods. Have a look at the jump in 2008: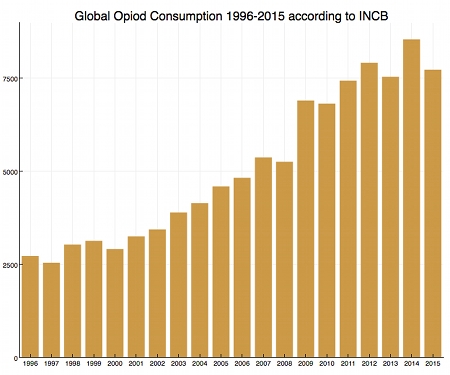 It should also be said that opiods are not the only addictive "medical" drugs but for example in the US Metamphetamine is apparently prescribed for treating obesity and ADHD. Since it is not narcotic it is not mentioned in the INCB report.
Methamphetamine, also known as Crystal Meth, had played also a role in World War II under the name Pervitin. Amongst others it was called "Panzerschokolade" ("tank chocolate") or Stuka-Tablette ("dive bomber pill"). Methamphetamine is a substituted amphetamine, so it belongs to the family of amphetamines for which corresponding pharmaceutical products are e.g. called Adderall, Dyanavel XR, and Evekeo and which are apparently not too uncommon among students.
I tried to gather some statistics concerning amphetamine type drugs. The following bar chart is assembled from the World Drug Report 2010 and 2016 (Fig 192 p.208 in WDR 2010, 2000-2008 and Fig. 65 p. 53, 2009-2014) which displays the seizures of Amphitamine-Type Stimulants (ATS) worldwide in tons. The diagram has to be taken with a grain of salt, because for 2009-2014 there were no explicit values listed and so I just read the values of the diagram. (Unfortunately the data itself is spread over different world regions in the UNDC tables coming with different units, so it would have been too much work to calculate the numbers from the tables directly. There is a somewhat similar overview in the WDR 2016 page xii intro).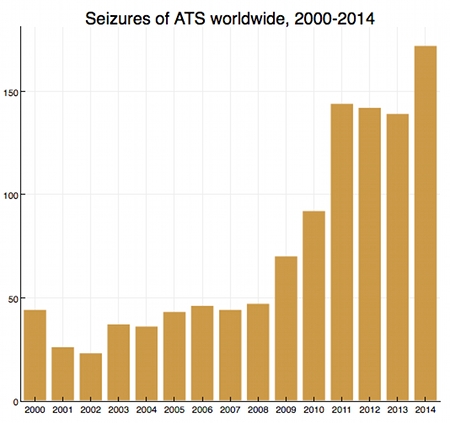 Not known or forgotten by many – already in World War II Methamphetamine was leading to a kind of drug epidemic among the german soldiers. Moreover Nazi leaders were addicted including Hitler himself who used the above mentioned drug Oxycodone and cocaine. The brand name for the Oxycodone pills were at this time Eukodal. According to the book "Blitzed" by Norman Ohler:
When Hitler fell seriously ill in 1941, however, the vitamin injections that Morell had counted on no longer had any effect – and so he began to ramp things up. First, there were injections of animal hormones for this most notorious of vegetarians, and then a whole series of ever stronger medications until, at last, he began giving him a "wonder drug" called Eukodal, a designer opiate and close cousin of heroin whose chief characteristic was its potential to induce a euphoric state in the patient (today it is known as oxycodone). It wasn't long before Hitler was receiving injections of Eukodal several times a day. Eventually he would combine it with twice daily doses of the high grade cocaine he had originally been prescribed for a problem with his ears, following an explosion in the Wolf's Lair, his bunker on the eastern front.
->related randform post Virtual asset sizes