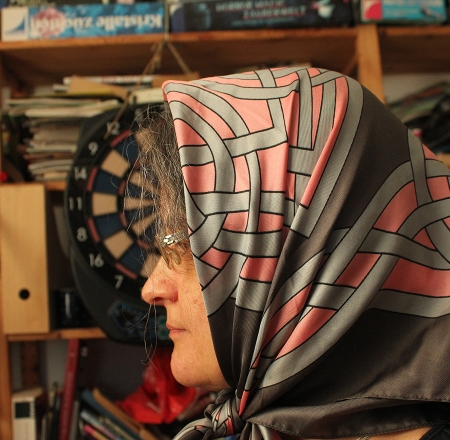 Me, wearing my newly acquired knotty headscar from Dublin (some of my math research involved knot theory)
School education in Germany is federal, so the choice of subjects may be different wether you live in Berlin or Bavaria. In Germany there exists a school subject called "religion", which if obligatory may usually be substituted by an irreligious variant called e.g. "ethics." There are still big discussions (even in Berlin) wether the subject should be obligatory or not.


I was raised as being irreligious (in German "ohne Konfession" (literally: "without confession" or "ohne Bekenntnis")) and this fact was noted as such in my official report card.
Religious or ethical education was and is obligatory in Bavaria, where I went to school.
In one of the bavarian grammar schools, which I had attended back then in the seventies, there were not enough irreligious or non-christian pupils for offering ethics lessons. So we 1 or 2 "irreligious" pupils were supposed to wait outside during religious lessons. The school was situated in a newly urbanized but still quite rural area, the catholic church was traditionally across the school yard and the priest himself was teaching religious education. I think there was a crucifix in every class room. This seems to be forbidden since 1995.
Apart from the school report my irreligiousity could in principle have gone completely unnoticed since the kids were seperated into protestants and catholics for the lessons and each part of kids could have thought I am in the respective other lesson. My irreligiousity however didn't go unnoticed and it was quite thematized by my peers. In particular even if I would have wanted to shed the fact of me being irreligous that wouldn't have been easily possible – last but not least because of my handicraft teacher Mrs. Ringsquandl.
For the handicraft lessons girl and boys were separated. The boys got to learn sawing and hammering, the girls got to learn needle work. Mrs. Ringsquandl was rather religious. So for example before each handicraft lesson the girls had to stand up with their faces towards the crucifix, which was hanging above the door of the school room and they were supposed to speak the Lord's prayer in unison. I was irreligious so I kept sitting and kept silent, but I felt rather uneasy with everybody standing and partially staring at me. But since my father had already quite some trouble with insisting that I mustn't receive religious lessons I also didn't complain to my parents (I recall a scene where the priest and my father were shouting at each other in the middle of the school yard in a way that I was afraid they would enter into a fist fight).
But alone this weekly routine during handicraft lessons made the kids constantly asking me why I don't believe in god and wether I am not afraid that I am a sinner and wether I am not afraid that god won't protect me. Some of the remarks went into the direction of taunts ("If you don't in believe in god you are no good.") . At that age you rather very much believe what your parents and other auhorities say. The fact that even some teachers were in clear disapproval of me being irreligious made me quite into an "outsider". It was not that I had just another opinion, but that I did something which was sort of "unlawful". I felt it made me even more an outsider than speaking with a slight Berlin dialect. Apart from that Mrs. Ringsquandls actions made it difficult for me to see my grades in handicraft lessons with a neutral eye.
I told this little episode from bavarian grammar school because it illustrates some of the problems which occur if official authority figures display and use religious symbols in an official context. An authority figure which isn't able to dispense with some of her or his religious actions (like wearing a certain religious symbol) won't automatically be perceived as neutral and won't automatically be perceived as being capable to treat someone with no or a different religion with due neutrality as e.g. demanded by the german constitution.
Note also that its not the fact that a person wears a religious symbol which may here be a problem, but the fact that an official authority figure wears a symbol and in particular that the figure may not be able to refrain from doing so.
Last year the german supreme court made the rules about the use of headscarfs for religious reasons in public schools more precise after a related ruling in 2003. It was in particular ruled that:
In an order published today, the First Senate of the Federal Constitutional Court has decided that a general prohibition, incumbent on teachers in state schools, of expressing religious beliefs by outer appearance, is not compatible with their freedom of faith and their freedom to profess a belief (Art. 4 secs. 1 and 2 of the Basic Law, Grundgesetz – GG).
and
…it is not sufficient that the expression of religious beliefs by outer appearance or conduct constitutes an abstract danger, it has to constitute a sufficiently specific danger of impairing the peace at school or the state's duty of neutrality.
In the ruling of 2003 the supreme court wrote:
The decisive statements in the Federal Constitutional Court's crucifix decision were not applicable to the present case. Whereas that case concerned a religious symbol that the school, as a state institution, was responsible for installing, in this case the complainant, as a subject of fundamental rights, had suffered an encroachment upon her right to freedom of faith. In the case of fundamental rights that were unconditionally guaranteed, a restriction of the exercise of the right could be considered only in cases of specific endangerment. There was no such endangerment; there was no evidence of the alleged suggestive effect of the headscarf and the alleged possibility of a detrimental psychological effect. When the complainant had done teaching practice, there had been no conflicts or serious difficulties. The endangerments set out by the appointing body were merely of an abstract and theoretical nature.
In this context I ask myself wether Mrs. Ringsquandl's religious intervention would have counted as a "specific danger of impairing the peace at school" or as "merely of an abstract and theoretical nature" as I was of course keeping perfectly silent about the taunts and the Lord's prayer etc. – for obvious reasons.
Berlin senator Dilek Kolat wrote a commentary in Berliner Zeitung (in german) where she expressed similarily concerns that the judgement may eventually not be very helpful in finding balanced solutions.
Und da fangen die Probleme an: Wie soll das im Alltag entschieden werden? Wann genau sind der Schulfrieden oder die Neutralität der Schule gefährdet? Müssen handfeste religiöse Konflikte vorliegen? Ich fürchte, dass bereits die Debatte darüber den Schulfrieden stören könnte.
translation without guarantee:
And there the problems start: How should that be decided in the daily routine? When exactly is the peace in school or the neutrality of the school endangered? Do there have to be stoutly conflicts? I fear that already the debate about that might disturb school peace.
What to do to defang the discussion?
Headscarfs are useful against cold etc. and I wore and wear them actually not too rarely. They are a beautiful fashion items. For those who wonder – I am still a non-atheist irreligious and up to now I had no problems if I was irraneously considered to be a muslim due to the headscarf or due to my burkini-kind of swimdress which I wear if I want to avoid sunscreen lotion and I hope that also in the future I don't need to wear a headscarf with the sign "I am wearing a headscarf without being a muslim" on it.
Would it help to see headscarfs more often in a non-muslim context?