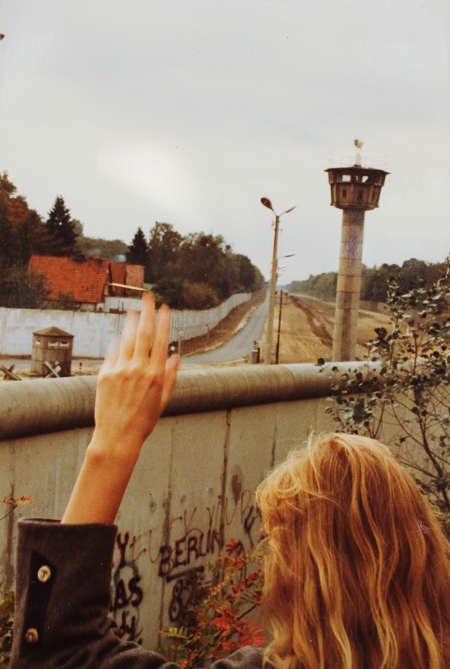 The Berlin wall somewhere in the eighties.
Somewhere in the sixties my grandfather was searched in East Berlin.
That is some people came to his house in Berlin-Biesdorf, Eastberlin where he lived.
His house was searched and while this happened he had to stand hands up against the wall threatened by a weapon – at least this is what I recall from my childhood memories about what was told in my family. I don't know why he was searched and who exactly was in charge for the search. May be the Stasi? I always had quite vivid imaginations about that incident, imagining how the searchers could have possibly looked like. I knew how his house looked like since I had been there a few times. Did they wear normal Stasi uniform or did they wear more heavy gear like the police in this search?
Why was this incident so important for me that I had to recollect it that often? Because as a child I was thinking that I was guilty that my grandfather was searched. It was only as an adult that someone in the family said that this was probably not the case.
So what did I do so that I thought that I was guilty that my grandfather was searched ?
We were on a car trip from West-Berlin to West-Germany. This meant in particular that we first had to pass a border control, for us this was usually at Drewitz-Dreilinden. Especially before the Transit Agreement the border control was rather cumber-some. At the control point one had to wait rather long and then an officer usually asked, wether one carried weapons or radio transceivers and wether one could open the trunk and looked into the trunk and other compartments of the car.
I was about five years old and rather proud about a pistol that my parents had to buy me for a theatre performance in my preschool and despite my young age I had already in the back of my head the feeling that it might not be a good idea to tell the Grepo officer that I have a toy pistol at home, when he asked wether we carry weapons. Needless to say after I did we were searched completely and spend about six hours at the control point until they let us pass. The search of my grandfather happened right after that incident, so that I thought that there was a causal relation between the two events. May be I find out some day about what was the real reason.