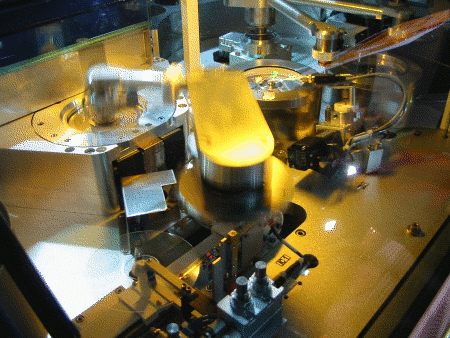 With a two weeks delay I finally managed to put part II of the report about the Games Convention together :). As I allready said in this randform post – there were no big technological novelties to see. The european market is obviously not prime interest of the games industry, which became last not least now also apparent by the postponed european release date of playstation 3 (now march 07). Maybe this lack of interest is due to staggering sales (at least in germany) and maybe this is also the reason why this years games convention tried to address a bigger circle of possible customers. So, next to the usual male-under-30 videogame section, the GC hosted not only the aforementioned pong.mythos, but further art+game sections, a family section and a special female partition.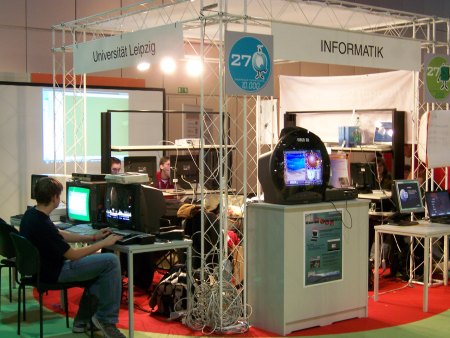 The backbone: The computer science department of the University of Leipzig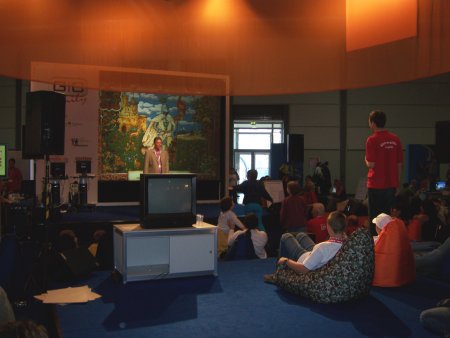 The relaxed family hall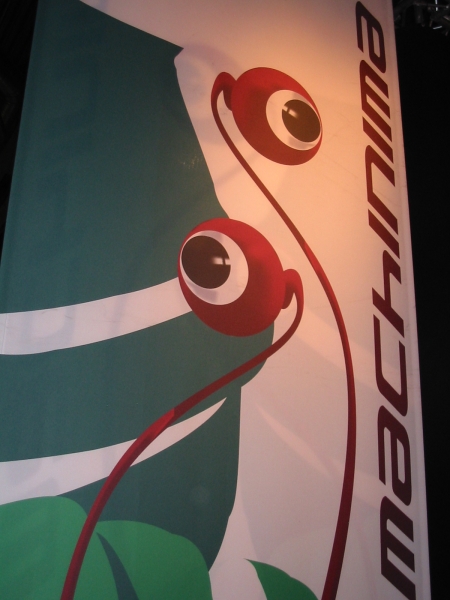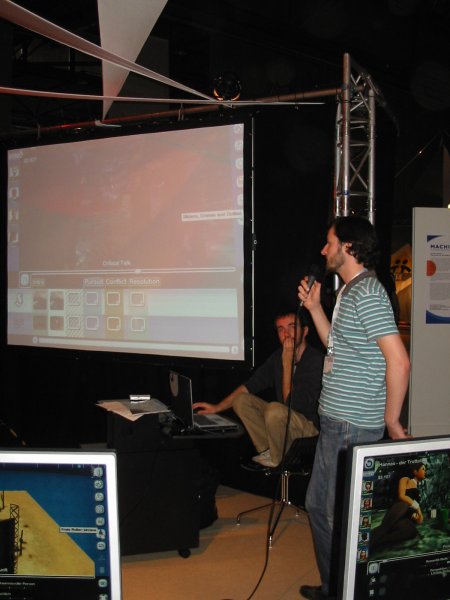 Klaus Neumann and Friedrich Kirschner giving a workshop on their
movie sandbox
The arts section was expanded by several workshops, so I found Friedrich and Klaus while being very busy with their workshop (but still smiling..) (see also NMI conference post) and there were several students and installations of Burg Giebichenstein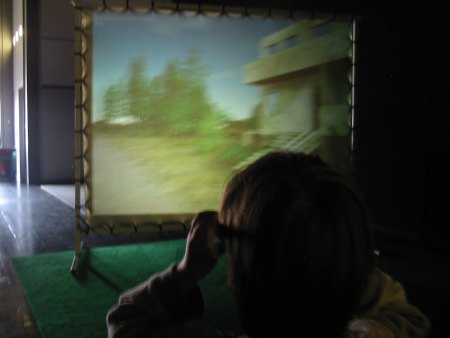 Burg Giebichensteins virtual environments made with french
virtools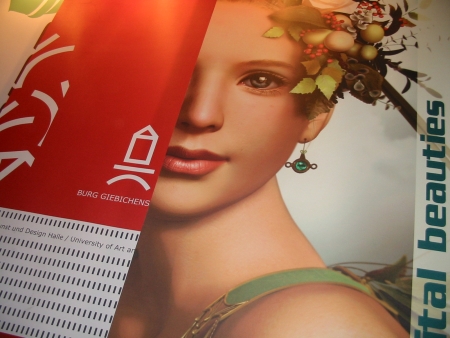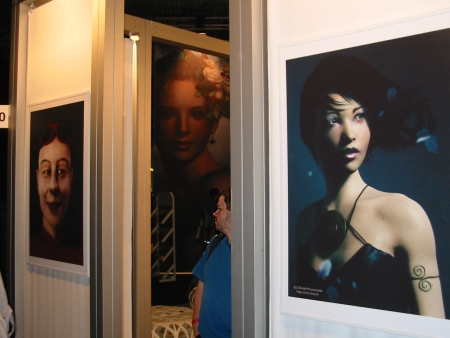 Burg Giebichensteins exhibition: Digital Beauties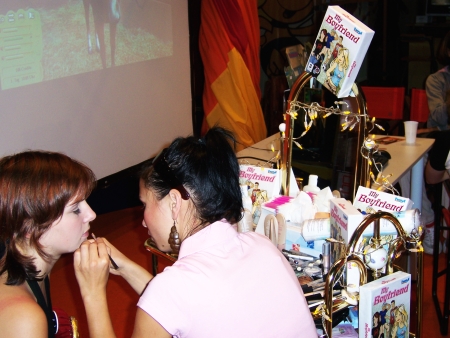 From the female section: How to find a boy friend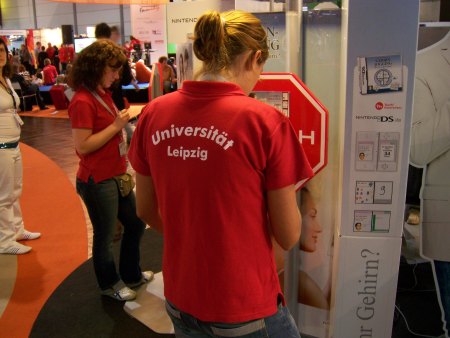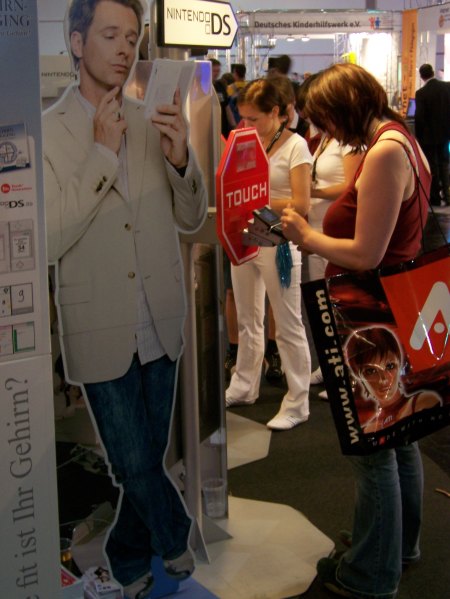 Nindento`s DS light in fact managed to find a female audience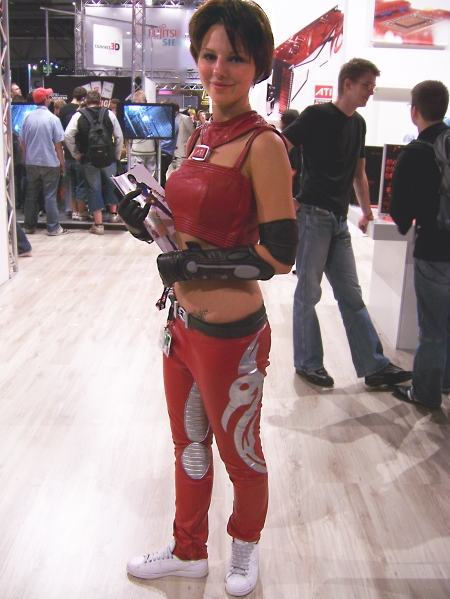 A socalled "boothbabe", displaying another side of female existence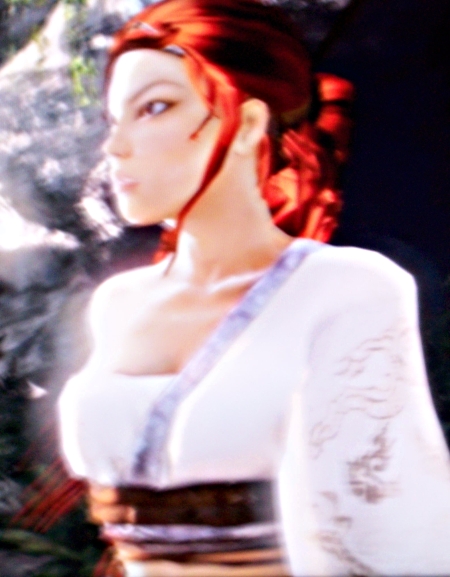 A socalled Sony's blurred princess displaying also another side of female existence
By the previous images one may get falsely the impression that a major female turn took place in the games industry – but in fact on the contrary – it was rather hard to find females at all at the GC and it was the first time in my life that I saw on a public event a line in front of the men toilets and not – as usual (architects listen!) a line in front of the women's toilet.
There is a very interesting interview with Barbara Lippe on ping mag about gender and games. (actually there are also other interesting points in that interview…especially the one about how reality looks like). A lot of interesting links on the gender issue and on games in general you may also find on Mary Flanagan's website.

However it was clear games are still mostly a boys thing: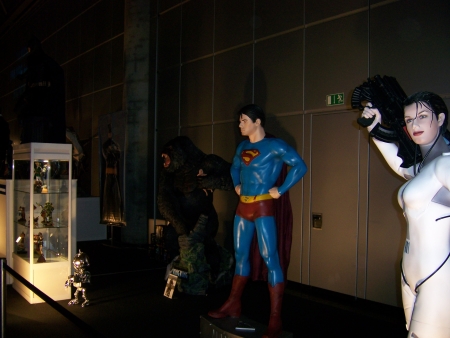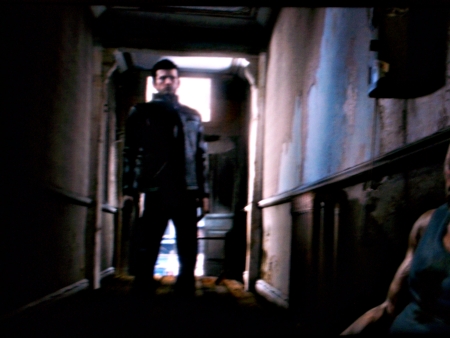 Sony getting away from the middle age fantasy look with a GTA clone for PS III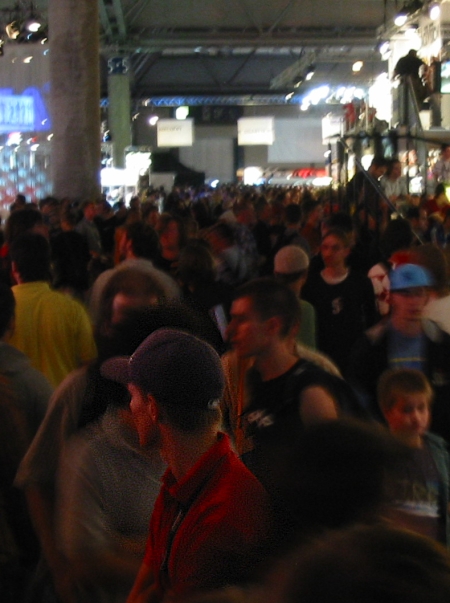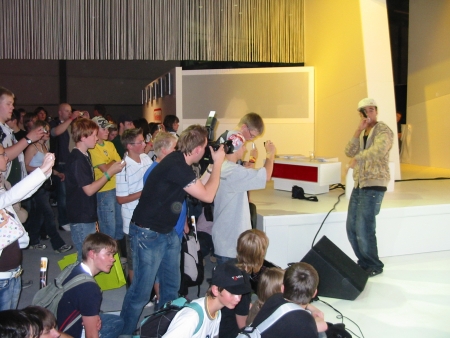 Inside the (male) crowd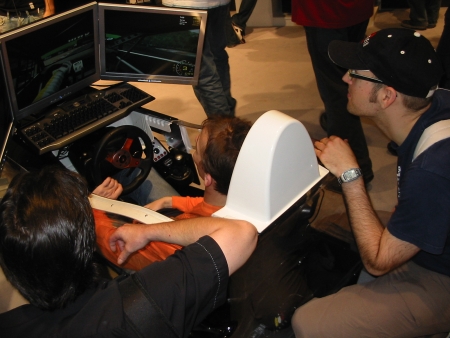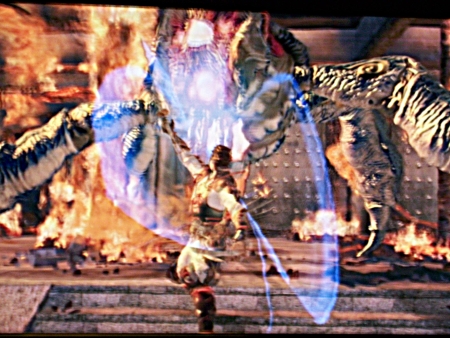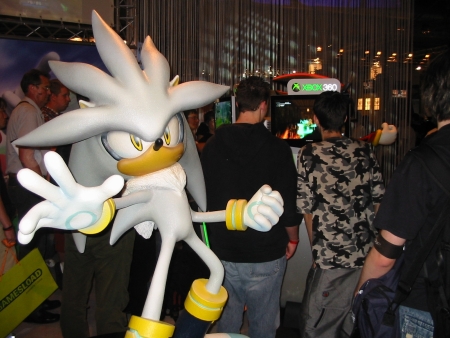 huu?
Last – not least the GC was a fair – means – big business: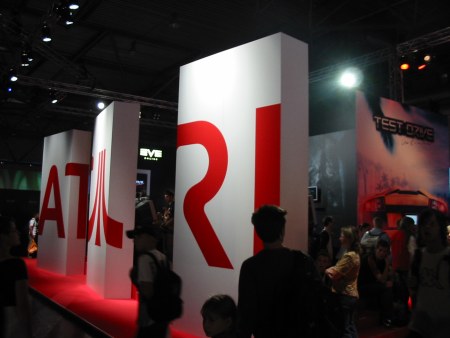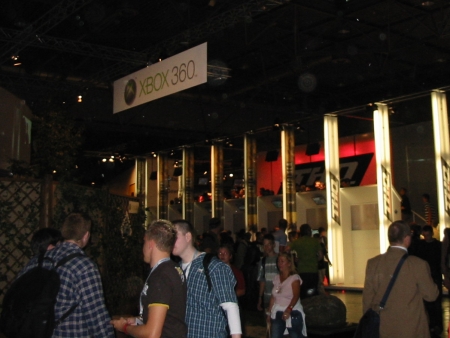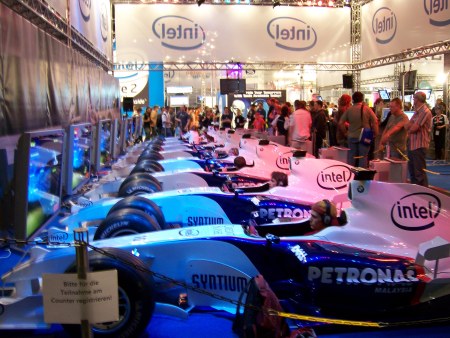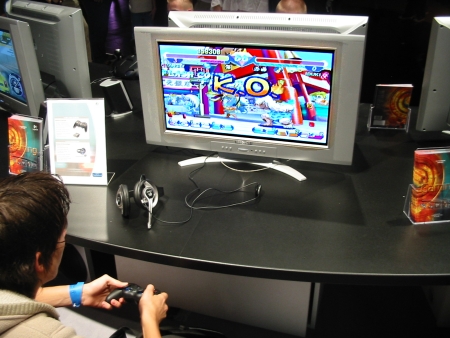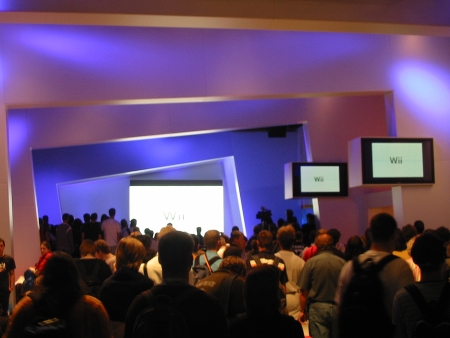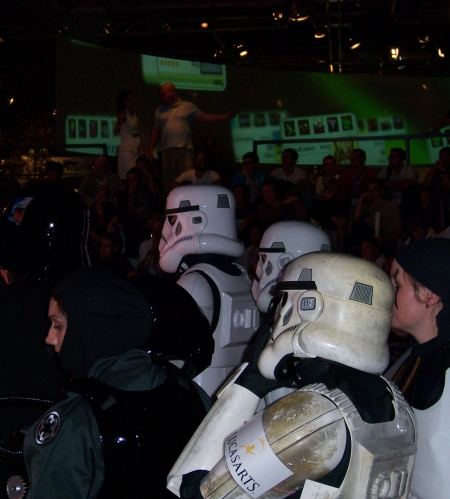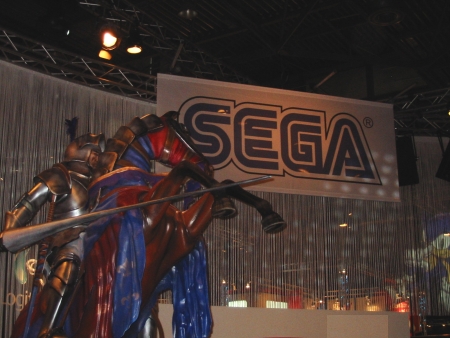 And this image of hard big business was also not really relaxed by these funny case modders: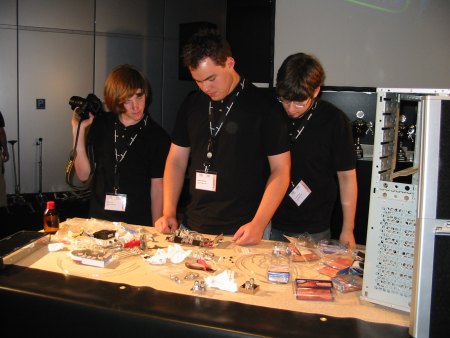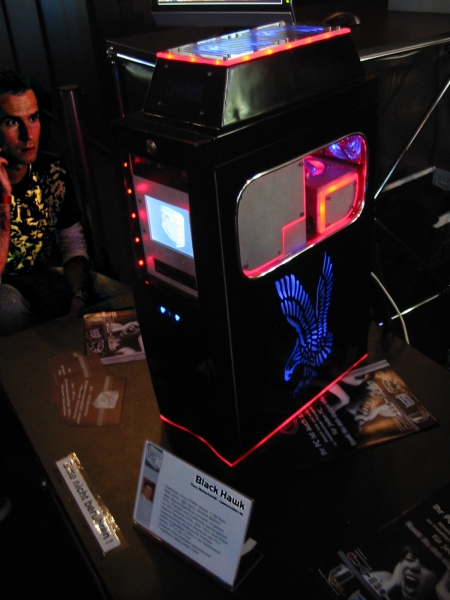 OK that's it from the games convention, left out are a few dazzling images from spore…they will be put into a subsequent post.