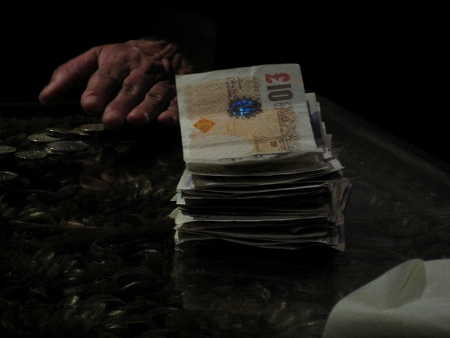 In January we had a series of posts about german tax laws, which you can follow by starting with the randform post: German tax relowaded. By looking at tax laws I stumbled upon a blog entry on Griechenland-blog (in german), which described the new greek tax laws. I tried to gather a little more information on that issue and actually also asked a greek from Athens to help me with official statements on that issue, but got no reply and didn't find much. I edited the sofar gathered information on the Azimuth page Greek Tax Regulations. The sofar collected information suggests that there are big steps in the greek taxes. Like that
…if the data is correct then someone who earns 25001 Euros a year has to pay more then 3000 Euros more then someone who earns one Euro less
Unfortunately the corresponding Wikipedia page is out of date and even the greek page about taxes doesn't seem to contain any concrete numbers.
I am now asking here on this blog wether someone knows about where to find the official numbers and formulas on greek taxes.
There used to be a european project (2006-2008) called estrella project where:
To demonstrate and validate the Estrella platform, European tax related legislation and national tax legislation of two European countries will be modelled and used in the pilot applications. The finance ministries or tax administrations of several other European countries will take part in an Observatory Board to ensure generality of the approach.
As far as I know within the project an ontology for making (european) legal texts in particular more machine readable and comparable was developped:
The main technical objectives of the Estrella project are to develop a Legal Knowledge Interchange Format (LKIF), building upon emerging XML-based standards of the Semantic Web, including RDF and OWL, and Application Programmer Interfaces (APIs) for interacting with legal knowledge-based systems.
Does someone know what happened to this project? Which countries were involved? Apart from a link to their Estrella Project I couldn't find anything on european taxes on the website of the Leibniz center for law. I also couldn't find anything on that in the presidential adress: 25 years of AI and law ICAIL 1987-2013 but there was an overview on LKIF on page 31 and on page 28 there is an overview about socalled alternative codifications, maybe the speaker explained there about the problems of different tax codes.
Given the current state of European finance I could imagine that getting an overview about european tax regulations is quite important.
addenda 071013:
In the description of the ontology LKIF-core it is mentioned that:
It has been tested to work with TopBraid Composer, Protege 4.0 alpha and SWOOP.
Would be interesting to know wether they work also with other tools like those mentioned in the lod2 toolkit.
An overview about Linked open data (LOD) can be found in the book Linked Open Data – the essentials which
…was created during the preparation of the REEEP- and
SWC-organised event, "Linking Open Data to Accelerate Low-Carbon
Development," held in January 2012 in Abu Dhabi with the goal
of providing an easy-to-understand guide on first steps steps in
consuming and producing LOD.
If I haven't overseen something the book seems though to have forgotten to mention Wikidata.
It should also be mentioned that the semantic description of tax regulations would need to include some elementary math ontologies. An article by myself which is concerned with Linked Open Data and especially in relation to math, however not with an application to tax laws but rather to sustainability aspects, can be found on arXiv.org. The article also describes the student project Mimirix, which I had supervised in the Winter 2011/2012.
supplement 221113:
For the sake of completeness it should be noted: According to the current copyright notice Rinke Hoekstra,Leibnitz center for law, Universiteit van Amsterdam runs also the metalex document server, which "hosts (almost) all Dutch national regulations in CEN MetaLex XML" (which seems to be a CEN standard) and as RDF Linked Data. The server provides also a search option (the search result seems however not linkable), where one can find some (dutch) tax documents.