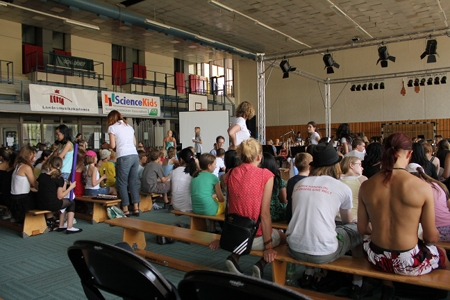 randform reported already earlier about the decline of music education in Berlin. The last post was about a protest note by well-known musicians who protest against the cutbacks of music education in schools .
Currently you can hear the Vuvuzelas everywhere here in Berlin — they are quite LAUUUUt (this is approximately the noise of a german Vuvuzela) — thus one could easily conclude that the decline of music education already reached the bottom.
But of course the Vuvuzelas are due to the soccer fever and luckily there are still some people left in Berlin who prove that its music education has not (yet) reached the bottom. Here a video snippet from the concert of the Musikalische Werkstätten (a music project with pupils from the Berlin districts of Lichtenberg-Hohenschönhausen, Treptow-Köpenick und Marzahn-Hellersdorf, organized by Landesmusikakademie Berlin) where pupils perform not with Vuvuzelas but partially with similar simple instruments the piece "seven nation army" (here the original) in a very cool style.

During the concert I was a bit concerned that parts of the ceiling in the gym at FEZ, where the concert took place would fall down, however then I told myself that just because the ceiling is deformed (probably due to ball shots, see image) that doesn't necessary imply that it will fall down. ??

The protest has now a website at http://www.ohne-musik-keine-bildung.de/ and you can leave your signature against the cuts in music education (german newspaper article in Morgenpost about the campaign)