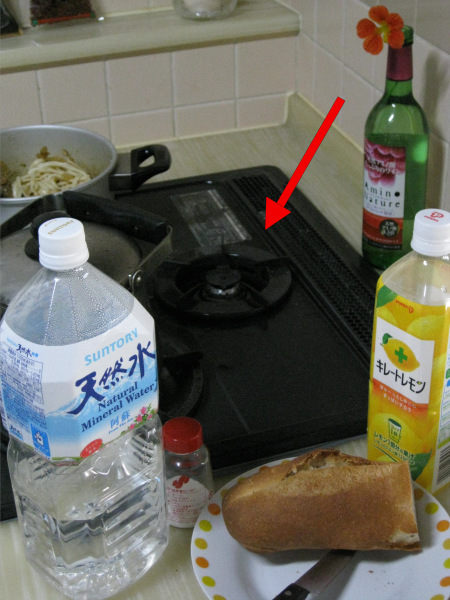 High quality and well designed things are nice. Since these are usually more expensive (but not always!) it is good to know how to deal with bad design and how to live with it.
The previous sentence was meant as a kind of excuse, since I am feeling already bad that I criticise again a design over here (and Japan has actually a high culture of design!), however I feel these things have to be spoken out at one point.
The topic of this post is a design, which already went on my nerves, when I was living in the US…it is the issue of socalled dripping pans on a stove (please see images). A dripping pan is a device, which is intended for keeping the splattered food away from the internal mechanics of a stove.
Dripping pans are usual in (porcelain) enamel and thus quite easily stained (especially with a dripping Espressomachine, like in the below pictures :)). In the US I had once the fun of caring for dripping pans in CREAM COLORED enamel.
Being of enamel means in particular that YOU SHOULDNT CLEAN DRIPPING PANS WITH SAND! (since of course this would destroy the smooth enamel surface) – In other words: It is quite a pain to keep these things clean and buying new dripping pans is expensive. Thats why I called them "dripping pains".
In the US we got the advice to cover the pan with aluminium foil. In the super market over here I found even an extra-made aluminium cover to buy (see image below). A cover for a cover and then in highly expensive aluminium. What a waste of energy. Moreover according to the below leaflet there seem to be companies who clean dripping pans for you. Nevertheless – in Berlin we have a stove (which has an integrated electrical oven and which is from a swedish company called Juno, but there are also other companies) which needs no dripping pans at all and which is easy to clean, since the top had been cut planar. No dripping pain any more! (apart from this it is mostly smooth stainless steel, which is not necessary but quite a luxury).
So can anybody tell me – why is this strange design of "dripping pains" still alive – given the existence of an "information highway"?