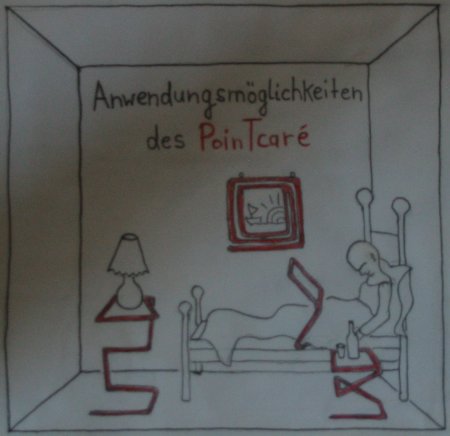 Again a bit retro design today.
It is interesting to observe the historical development of some companies and products. During my life I had to work with several visualization programs and graphics computers (starting with a bobcat in 1987). In the beginning of the nineties this was e.g. a Stellar. Or in 1996 this was a SGI workstation.
For a little training on the SGI workstation and the software XSI I visualized in 1996 an idea which I had for a product design, namely a kind of chair which I called sometimes PoinTcaré, sometimes PoinGcaré.


I couldnt make up my mind how to call it. If its flat it looks like a PoinTcaré, if it assumes "sculptural quality" it rather looks like a PoinGcaré. Nowadays one could maybe even put an LCD screen in the middle of PoinTcaré or who knows what tangible-interactive-sensoring device instead of just an image. Some possible applications of PoinGcare can be seen in the image above.
PoinTcaré may remind of Max Bills variations, but I hardly knew about Max Bill at that time. Also in other aspects such a comparision is in my opinion rather far fetched.
I sent the idea to a Philipp Morris Student design competition, which offered a commission and the possibility to exhibit. The competition was called "Funny furniture which makes place in the smallest room". It was organized by a company called Freiraum,
I do not like competitions. My sister warned me that my presentation was inacceptable like I drew the above Carl-Spitzweg-like comic in order to explain my concept. I was no product designer – so I didnt care.
However she was probably right. My chair even didn't make it into the exhibition.
Presentations are important in these businesses. I was focusing too much on the concept. I learn that slowly.
On the other hand maybe the poinTcaré concept is bad or maybe the Freiraum jury decision was rather a question of personal preference. Who knows.
Remark:
anyone interested in PoinTcaré can contact me: nad…@…daytar.de or leave a comment here.
Here comes the description in original 1996 design (copyright Nadja Kutz):